Return to the HOME page for NN4ZZ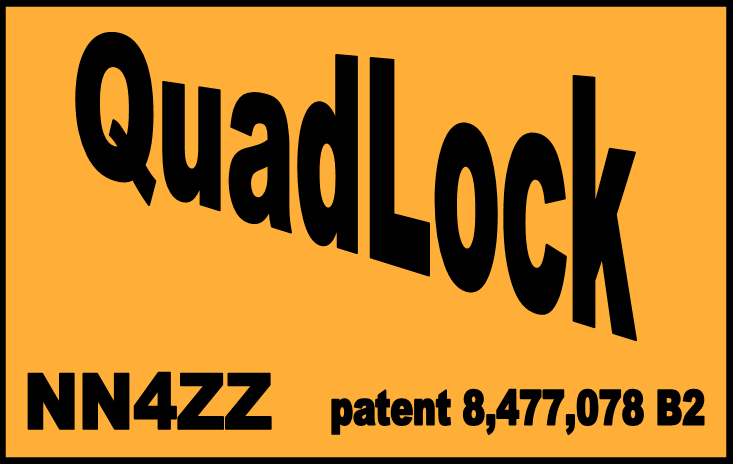 Click for the QuadLock page for Cubical Quad Antennas.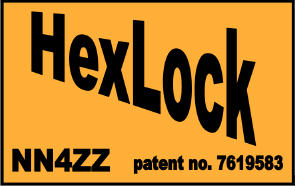 Click for the HexLock page for Hexbeam type Antennas.
---
Warning -- Tower and antenna work can be dangerous. Working from the ground helps reduce the risk but every installation is different. The user is responsible for the application and adhering to good engineering and safety practices. There are no other warranties express or implied.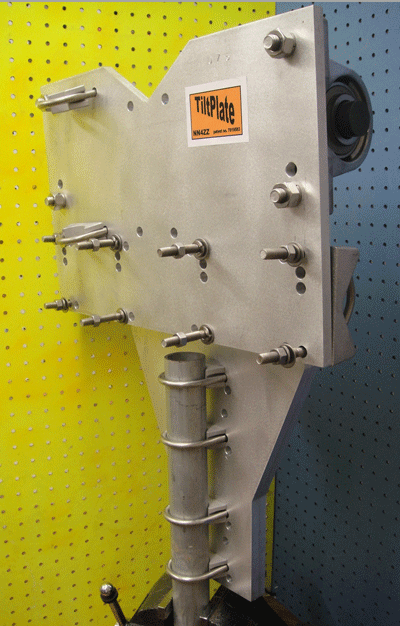 Review Update: Now in 3 models: Standard, Monster and Mini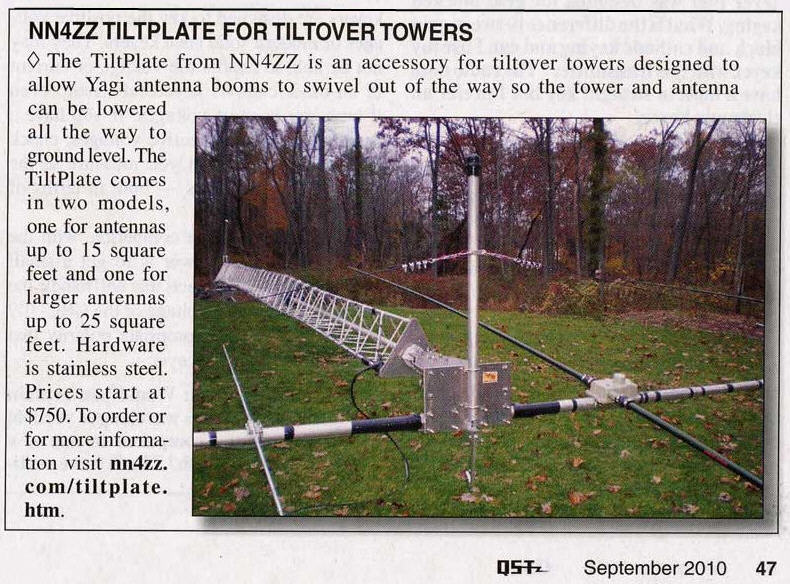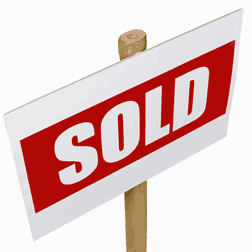 Over 200 TiltPlates shipped. Thanks!
VIDEO --- CLICK for the HamRadioNow interview at Dayton 2014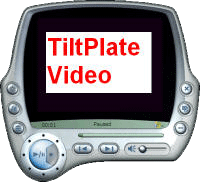 ---
For More information

Read the TiltPlate reviews on eHam, click here
Read the KARLock reviews on eHam click here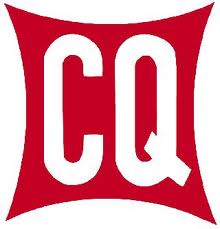 Click for TiltPlate write up in CQ Magazine
Tiltover Tower -- A Yahoo group dedicated to crankup and tiltover towers. You may be interested in joining.

Click to visit the CrankupTiltoverTowers yahoo group
---
Price List
Standard Model $750 + $55-$65 shipping & handling

Monster Model $895 + $85-$95 shipping & handling

Mini-TiltPlate $700 + $44-$54 shipping & handling

KARLock, non-stackable $190 + $20-$30 shipping & handling

KARLock, Stackable $225 + $20-$30 shipping & handling

Lateral Boom Strut $123 + $20-$30 shipping & handling
Shipping is to continental U.S. and varies by UPS zone which is the reason for the range listed.
For shipping to Alaska, Hawaii, Canada and International, contact me for current rates.
Note: If you are ordering multiple items, special orders, or for international shipping, contact me directly for an invoice.
Click to send an email to me: al@nn4zz.com
Standard Model - $750 plus shipping
Note: shipping

weight is about 40 lbs
Monster Model - $895
plus shipping
Yagi up to 35 ft windload & 250 lbs (e.g. Steppir MonstIR, Dream Beam, other large yagi, etc )
Select your options and click the "Buy Now" button
Note: shipping weight is about 60 lbs
Mini-TiltPlate Model - $700 plus shipping
Note: shipping weight is about 30 lbs
KARLock, Non-Stackable - $190 plus shipping
The KARLock is an optional locking device for your TiltPlate. If you live in a high wind area or just feel more comfortable with a device to prevent the antenna from lifting in high winds, you may want to consider a KARLock for your Tiltplate. Click Here for more information.
Select your mast size and click the "Buy Now" button
Note: shipping weight is about 5 lbs
KARLock, Stackable - $225
plus shipping
The "stackable" KARLock is the same as the regular KARLock except it comes with 2 additional U-bolts and a short section of 2 inch tube for mounting.
Click Here
for more information on the KARLock.
Select your mast size and click the "Buy Now" button
Note: shipping weight is about 5 lbs

---
Tiltplate Models - Standard, Monster, Mini

TiltPlate (standard)

Antennas up to 25 sq ft, 125 lbs

Shown in the stackable configuration (mast extends past TiltPlate)

TiltPlate (monster)

Antennas up to 35 sq ft, 250 lbs

Shown in the non-stackable configuration (mast is in front)

Antennas up to 10 sq ft, 70 lbs (2el Steppir, DreamBeam 11, Small tribander or LPDA)

Only requires 12 inches on the boom for mounting.

shown in the "stackable" configuration (mast extends past the TiltPlate)
---
Click for Customer Pictures and Comments
---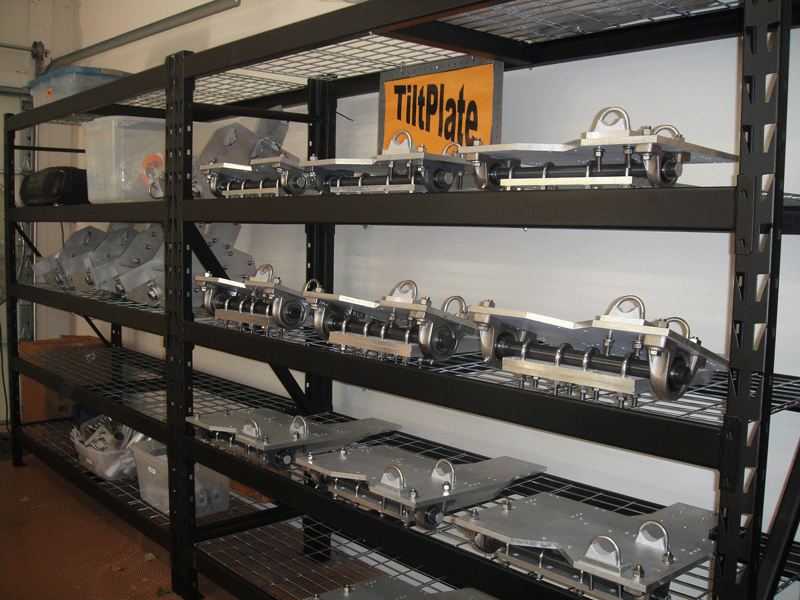 TiltPlates, KARLocks, and QuadLocks
---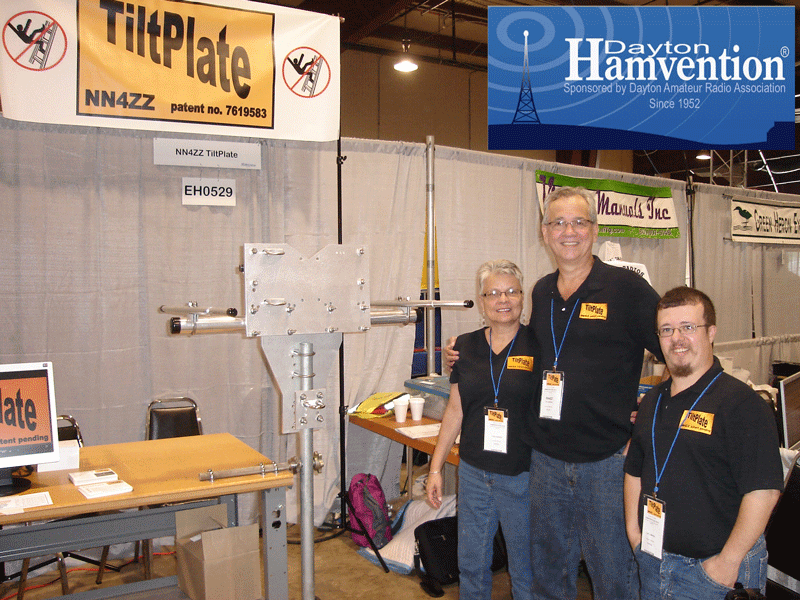 Lida (XYL), Al, and Cal (son) at the Dayton 2010 hamfest. Photo by Don / N4HH.
---

Click for the NN4ZZ video channel on YouTube
All of the TiltPlate, KARLock, and QuadLock videos are posted on YouTube in the NN4ZZ channel.
Small Screen Version Large screen Version
( 320 X 240 -- 9 MB ) ( 640 X 480 - 65 MB )
This is a 4 minute video showing the TiltPlate in action. Both files are the same, the screen size (and time to load) is different. Click the VIDEO icon to play.
The music on the video was written, composed, and recorded by Andrew (OZ5E) and Lissa (XYL) also known as The Ham Band. For more information check www.hamband.com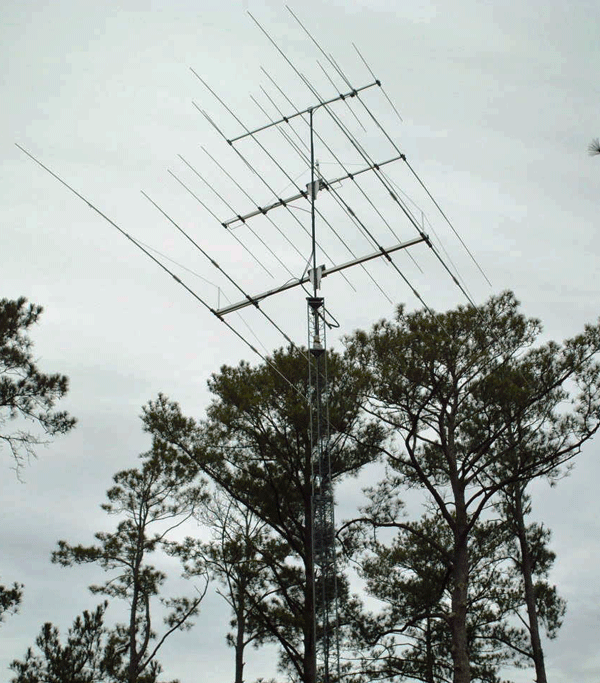 Bill / KM1C Stacked TiltPlate video
The video below shows 2 stacked yagis on TiltPlates with a 6M yagi at the top. Click for more information on Bill's project.
Video Details: 9 minutes, SMALL 320x240 screen size, Microsoft .WMV format

Video Details: 9 minutes, LARGE 960x720 screen size, FLASH format
---
Company: NN4ZZ TiltPlate is a family owned LLC (Limited Liability Corporation)
Location: We are located in Loganville Georgia, (30 miles east of Atlanta)
Founded: The LLC was established on October 26, 2009 and is co-owned by Al Ludwick / NN4ZZ and Cal Ludwick. Lida Ludwick (XYL) provides shipping and administrative support.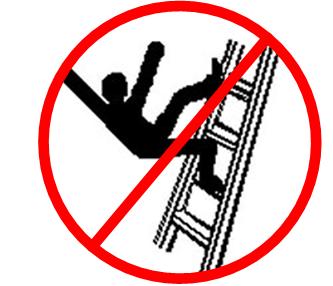 Safety and Convenience
Mission: The mission of our company is to provide safety and convenience products for yagi and quad antenna users with tiltover towers. Our products, the TiltPlate, QuadLock and HexLock are designed to allow antenna maintenance from the ground without the need for a tall ladder or expensive bucket lift. It is our goal to provide the best quality product possible at a reasonable cost. To that end we use the best components, a robust design, and quality manufacturing processes.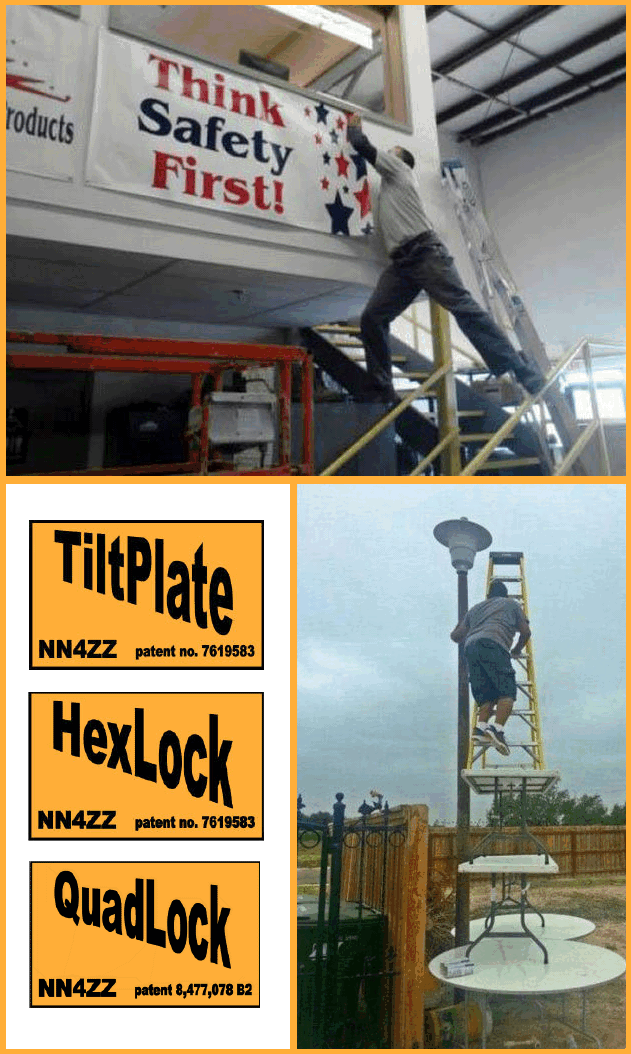 Patents: Tiltplate and KARLock, HexLock and QuadLock are patented.
Contact: Click to send email ---> al@nn4zz.com
Note: Although our phone number is not listed here, phone support is available just send an email and it will be provided or email your number and we'll give you a call.
---