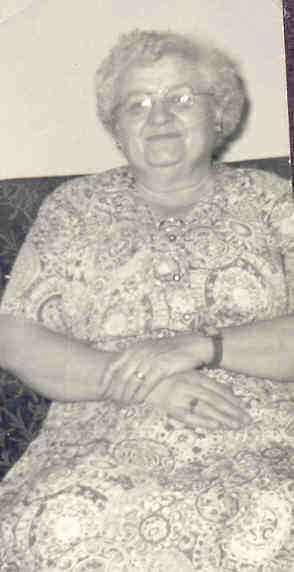 Nannie Mallie Davis
(1891-1972)
Nannie Mallie Davis
Born: 15 Oct 1891, Bardstown Junction, KY
Marriage: Alvin Leslie Ludwick on 4 Jan 1911
Died: 20 Jul 1972 at age 80

Cause of her death was uterine cancer.


Medical Notes:
diabetes, hardening of the arteries

Nannie married Alvin Leslie Ludwick on 4 Jan 1911. (Alvin Leslie Ludwick was born on 12 Dec 1880 in Cox's Creek, KY and died on 9 Oct 1971.) The cause of his death was cancer of the prostate.

Noted events in their marriage were: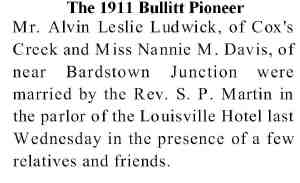 • Marriage Notice. Announcement from the turn of the century "Bullitt Pioneer" newspaper. Microfilm available at the Ridgeway Memorial Library in Shepardsville. Published in 1911.