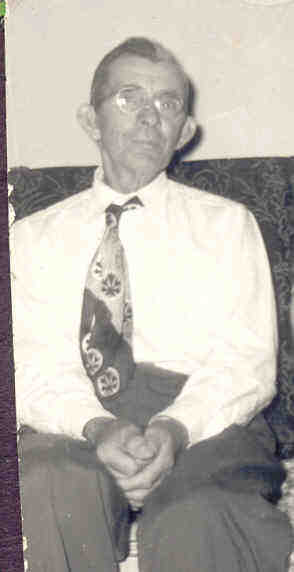 Alvin Leslie Ludwick
(1880-1971)
Alvin Leslie Ludwick
Born: 12 Dec 1880, Cox's Creek, KY
Marriage: Nannie Mallie Davis on 4 Jan 1911
Died: 9 Oct 1971 at age 90

Cause of his death was cancer of the prostate.


Medical Notes:
blind in one eye

Alvin married Nannie Mallie Davis on 4 Jan 1911. (Nannie Mallie Davis was born on 15 Oct 1891 in Bardstown Junction, KY and died on 20 Jul 1972.) The cause of her death was uterine cancer.

Noted events in their marriage were: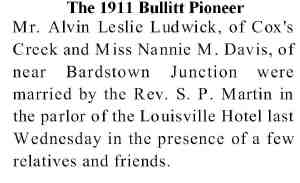 • Marriage Notice. Announcement from the turn of the century "Bullitt Pioneer" newspaper. Microfilm available at the Ridgeway Memorial Library in Shepardsville. Published in 1911.